Detailed
Malathion
Product name: Malathion
Product Series: Main product

Activity: acaricides, insecticides
CAS.No.: 121-75-5
Formula: C10H19O6PS2
Molecular Weight: 330.36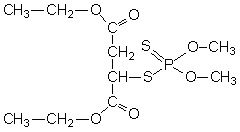 Mode of Action:
Non-systemic organo-phosphorous insecticide and acaricide with contact, stomach and respiratory action.Acts as a cholinesterase inhibitor.
Advantages & Properties:
1-Malathate is an organo-phosphorus insecticide and acaricide that is used to control a broad spectrum of sucking, boring and chewing insect and spider mites on fruits, vines, vegetables, field crops and green house crops.
2-Non-Systemic pesticides of low mammalian toxicity.